Meredith Sue Willis's

Books for Readers # 196

April 20, 2018

.
Meredith Sue Willis's
Books for Readers # 196

Coming in August-- MSW's latest novel, Their Houses!!

"Tough-minded, compelling...a terrific read" -- Phillip Lopate

"Sweet, slyly humorous cadences of West Virginia" -- Diane Simmons

"A compelling series of mysteries" --Jane Lazarre

 

---

Phyllis Wilson Moore has received the The Women of Appalachia Project (WOAP)'s 2018 Women of Appalachia Project (WOAP) Appalachian Advocate Award. Learn more here.

---

---

Excellent publicity for Voices in Unity: Coming Together, Falling Apart, edited by Cat Pleska. The article is linked here from the Huntington, WV Herald-Dispatch was picked up by US News & World Report, The Houston Chronicle, Chicago Tribune, San Francisco Chronicle, the Kansas City Star and many more. 

---

George Brosi writes reviews of books with Appalachian theme and perspectives. See below, and also visit his Appalachian Mountain Books site for more reviews as well as Appalachian events--updated monthly.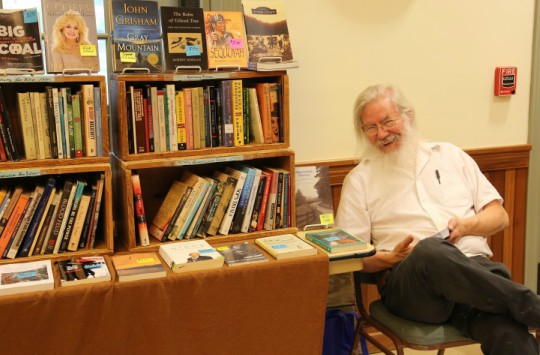 ---
Contents of Issue #196
Books for Readers:


The Appalachian region has been in the news this early spring with the the militant West Virginia teachers who went on strike and earned an improvement in their wages and health coverage, and with lots of debate and self-reflective coverage of the controversial Hillbilly Elegy (See Nathan Leslie's comments here). For a wide and deep way to learn something even more about this and all of the abundant literature of Appalachia, get to know the work, criticism, and activism of George Brosi.

Here at my new home, after nine months of fixing up and getting used to a new place, I am finally able to read again! As I wrote a couple of issues ago, during the move, I was only able to read narratives like Anthony Trollope or Michael Connolly's crime novels. I'm taking a break from Trollope, but still reading Connolly, a solid, clean stylist (MFA credentialed!), and his character Harry Bosch has an interesting back story (a murdered mother, highly stressful service in Vietnam). Harry, a homicide detective, sees himself as a kind of speaker for the dead on a mission to solve brutal murders.

For me, a major plus is that the Connelly books are mostly set in Los Angeles where my only son, only only daughter-in-law, and only granddaughter now live. I get a big kick out of Harry Bosch hopping on the 405 and then, when traffic gets too bad, going local. Bodies are discovered in all sorts of Los Angles spots: a park overlooking the Hollywood Bowl, a little funicular in downtown Los Angeles called Angels' Flight!

What books like Connelly's are not-- and I think this is true of most genre work-- is intellectually or emotionally challenging. The stories have surprises and suspense, but the outcomes are predictable. This is true also of Trollope and most of the other popular Victorians. The pleasure is in the worlds they create, the ride you go on. I don't think of it so much as escapist, but as viewing other worlds from a comfortable railroad observation car.

But now I'm branching out and trying to pick up some books from the past that I missed.

For example, after many years of avoiding it, I finally read Last Exit to Brooklyn by Hubert Selby, Jr. This book was controversial and popular when it came out in 1964. It is, historically speaking, extremely significant as a major break-through in transgressive writing. It's the one that explicitly described all things violent and ugly and grotesque. Along with William Burroughs' work and maybe Charles Bukowski, Selby set the standard for the real world as the lower depths, and for the cult of brutality that has influenced so much American writing of the second half of the twentieth century and the beginning of the twenty-first..

The book is actually several free-standing stories and novellas, and probably the most balanced and touching is the one about Georgette the Queen, a charmer who lives a drugged out, operatic tragedy of a life. Georgette is touchingly romantic as she wastes her love on the worthless Vinnie.

Next comes the famously ugly "Tralala" about the teen whore/robber who makes the world's fastest descent into binge alcoholism and ends up brutally gang raped to death. Has anybody ever topped this in fiction for making everyone see how depraved human beings can be? Lots of imitators, but this one has the strength of its conviction.

Then there is Harry who works for the union and has just about no redeeming social value: he beats his wife; steals from the strike fund (but then so do all the union officials); and rapes a little boy.

Vinnie, Georgette's true love, reappears (I think it's the same Vinnie) in the the final section, a long piece called "Coda." Vinnie and his wife have all of their dialogue AND SHOUTING AND PUNCHING IN CAPS LIKE THIS. This "Coda" is probably the most ambitious section with its group portrait of the projects in Brooklyn (probably Sunset Park near Red Hook), made up of various families and multi-ethnic voices: Italian-American, Jewish-American, African-American-- everyone poor, some hopeless, some striving, some stereotyped.

The book is hard on everyone, probably with more misogyny than racism, but there's plenty of racism too and homophobia as well. Wet shitty diapers play an important part in one section; sex is mostly transactional; at once point an untended baby crawls out on a window ledge and the people hanging out downstairs watch with mild interest the drama of whether it will fall or not.

In the end, I don't think you can evaluate this book in a normal way--what works, what gives pleasure-- it is rather a break-through period piece that insists everything is permitted in literature, and, by the way, human beings suck.

In my effort to cover books I have missed over the years, I also read The Conformist by Alberto Moravia, published in 1950. This is probably best known as a 1970 film directed and written by Bernardo Bertolucci, but I had wanted to read something by Moravia, and this is well worthwhile. The first chapter is gripping and richly foreboding: a lonely little rich boy discovers that he likes to kill animals, and has no idea what to do with his feelings and actions. He begins a precarious relationship with a pedophile defrocked priest, who he apparently kills. This extraordinary beginning struck me as possibly the backstory of a mass murderer, but instead, Marcello grows up to be a Fascist in the early years of the Mussolini regime. He is sent on a mission to set up his former professor for assassination. His real passion, however, is to achieve the life of a totally normal person.

The novel is dated by its possibly unconscious homophobia--maybe I'm being too kind to Moravia when I say that. A sexually predatory Lesbian, married to Marcello's former professor, for example, pursues Marcello's wife, who is in her vaguely bovine placidity, Marcello's greatest success in becoming normal.

Moravia pulls us into Marcello's strange, perverse, claustrophobic world view, and somehow manages to make this part-time Fascist secret agent engaging enough that we eagerly read his whole story.

Joan Didion's highly-praised 1984 Democracy was another book on my list of what I'd missed. She isn't my favorite writer-- I always feel she has contempt for most of us--that she would not, in person, give me the time of day. Yet, paradoxically, she works hard and with brilliant effect to bring us to where she is in her books. It's an odd combination of disdain and determination to communicate.

I have caveats about Democracy, but on balance, I think it is a strong novel. It begins by insisting on what it is not--a family epic-- and it drips with cynicism (realistic enough for its time period, which is the end of the Vietnam war). The protagonist Inez Victor leaves her life in the high altitudes of the American political world, and moves to southeast Asia to work for a refugee agency. It may not be a family epic, but it has echos of altruism in the end and a love story.

Didion does not want it, of course, to be "just" a love story. She uses a circling structure and a meta style with lots of narrator commentary on the events. The narrator, called "Joan Didion," is peripheral to events, but seems to know everything. The story telling is somewhere between clever and brilliant, and if I sound critical of that, it's because it feels a little precious to me, a little too "written."

But the story is worth getting through that. The dialogue in particular is a delight--bracing and funny. There is also a weird and wonderful big murder scene and the incident of a runaway, Inez Victor's daughter, who becomes a bartender in Vietnam just as the the Americans are pulling out. One excellent character is the ironic spin doctor who runs Inez's husband's political campaigns, always faithful, even when he sees clearly how bad things are going. He gets a lot of the best lines.

Passages like the one below are typical of how Didion proceeds in this novel:

As a reader you are ahead of the narrative here.

As a reader you already know that Inez Victor and Jack Lovett left Honolulu together that spring. One reason you know it is because I said so, early on. Had I not said so you would have known it anyway: you would have guessed it, most readers being rather quicker than most narratives, or perhaps you would even have remembered it from the stories that appeared in the newspapers and on television...

She addresses and mildly flatters the reader; she reminds us of the novel's structure; she has something to say about the pace of prose narrative, and she makes up fake news stories. This is all more or less amusing depending on your appreciation of cleverness. Personally, I read it for Inez's sad mistaken life and her quirky, fascinating family and acquaintances-- and for the love story.

SHORTER REVIEWS (notes by MSW if not otherwise noted)




William Tyndale: The Man Who Gave God an English Voice by David Teems

I read this on Kindle (with which "Tyndale" rhymes). Teems, who turns out to be a Christian musician as well as a biographer, tells the story of William Tyndale's life well. Tyndale translation of the New Testament is the precursor to the King James Bible. Much of the beautiful English in the KJV is the same as Tyndale translations.

To offer the sacred books to ordinary people was, in Tyndale's time, not only new but highly dangerous. Sir Thomas More is the villain in this biography, trying to stop this spreading of the Bible in the vulgar tongue. Tyndale was on the run much of his adult life, which wasn't a long one, but managed to do the famous translation from Greek of the New Testament, plus the Pentateuch, plus more.

He was arrested in one of the Catholic German states and after a year of imprisonment and interrogation (with apparently little or no torture), was condemned for heresy, strangled, and burnt. This form of executions was was considered gentle compared to what was going on in England with its grisly murders first of the "reformers" (the rising Protestants), then of the Catholics (including Tyndale's nemesis Thomas More) under Henry VIII.. There was a brief swing back to killing Protestants under Mary Tudor, then back to hounding Catholics under Elisabeth I. What a grim record for a religion ostensible of love.

One striking part of the story is that Henry VIII was given Tyndale's English Testament, probably, by Anne Boleyn, and Henry was moving toward Protestantism even as his agents were hounding Tyndale in Europe.

The argument between 16th century Catholics and early Protestants was clarified for me. The Catholics saw as the final religious authority the institutional Church itself, with all its history and study. For Protestants, the Word of God as embodied in the Bible, preferably in a translation readable by man, was the final authority.

A Book of American Martyrs by Joyce Carol Oates

In a recent issue of this newsletter, Shelley Ettinger praised A Book of American Martyrs, saying it represented Oates back and better than ever. The novel has great energy and class consciousness (it's very tough on liberals). It is amazingly well imagined, especially the internal life of the fanatic doctor-killing Dunphy, and there is also a lot of excellent writing about boxing (the eldest Dunphy daughter, D.D. " The Hammer of Jesus" Dunphy, becomes a boxer). Oates also does a wonderful job on delineating how ideology carried to extremes damages a lot more people than the assassin and the assassinated. She brings in the voices of various minor characters many points of view on abortion, and she excels in honest appreciation for the strengths of the poor and oppressed.

The Living and The Hunted by Matthew De La Peña

These two linked young adult novels are narrated by "Shy" Espinoza, a 17 year old Mexican-American who is very likable, full of both self-doubt and reasonable self-confidence. His world is set slightly in a future that is just dystopian enough to feel both realistic and frightening.

I assumed The Living was a self-contained story, but it turns out it leaves things only partly solved, and carries on into The Hunted. I particularly liked the part early in the first book when Shy takes a summer job as a towel boy on a cruise ship heading out into the Pacific. Lots of class insight, and Shy falls in love, gets sort of rejected. There is a mysterious suicide, and then a tsunami and a lifeboat. All of which was plenty of adventure for me, but it's only the beginning.

The survivors end up on an island where it turns out medical research has been underway. The corpses start to pile up-- death by murder, massacre and a terrible illness. The book ends with even fewer survivors--five people including Shy and a mysterious shoeshine guy who is really (I think) special ops.

And then we're off on The Hunted. The little group sails home for California where there have been earthquakes and more of the deadly disease.The second book has moved from mildly dystopian to pretty much post-apocalyptic. More good guys die, along with tons of bad.

Through both books, Shy's voice holds it all together. This second novel ends with a few things still open for a possible third novel. It is inventive and gripping, and I look forward to more of De la Peña's work.

The Book of the Dead Muriel Rukeyser (a new edition with an introduction by Catherine Venable Moore)

This is a very welcome, West Virginia-focused edition of Muriel Rukeyser's long poem about the Hawk's Nest/Gauley Bridge tunnel and worker silicosis in West Virginia. Nearly ninety years ago, hundreds of workers, while digging a big tunnel for diversion of water for power, contracted silicosis lung disease from drilling through silicon rock with dry drills and no face masks. Great numbers of them died. The dry drills and no face masks were all about speed and profit for Union Carbide and Carbon Corporation and their stockholders. This is said to be the largest corporate-industrial crime in US history.

Since many of the workers were brought in for the job from other states, and since many were black, West Virginians themselves tend to have had little acquaintance with the events. Rukeyser was herself an outsider, a poet and a New York Jew.

Thus the introduction by Catherine Venable Moore, a nationally known writer from West Virginia, is extremely valuable. She approaches the events as a sympathetic native and makes the connection to corporate crimes that people in West Virginia and the rest of Appalachia do know-- the Buffalo Creek flood, for example, as well as some natural disasters.

Great thanks to WVU Press for this new edition!

Some Books by Victor Depta

Brother and Sister: A Memoir


The Helen Poems

The Little Henry Poems

The Helen Poems especially are an interesting study in verse of single parenthood, from the breakup of a marriage through the vicissitudes of an intense and loving relationship between father and daughter, to the daughter going off on her own.

The Little Henry poems are more addressed to the grandchild, with verse and some silliness, but also the sadness of a grandparent separated by a continent from the beloved. That's one I really take personally.

Get the books online or from the publisher at www.blairmtp.net

FOLLOW UP

On Latin-American writers: Ingrid Hughes says, "Another must read in Latino lit is Junot Diaz. "

Nathan Leslie on Hillbilly Elegy :

Nathan Leslie says of Hillbilly Elegy, "I wanted to love this book, but overall found it underwhelming. My theory about this book is that it caught fire simply as a result of the Trump election. It was all timing. If it was not for Donald Trump, this book would have gone unnoticed. The prose is not terrible and Vance tells his story efficiently, but many others have done so more effectively--most notably Mary Karr's effervescence Liar's Club. Hillbilly Elegy has a great title and the timing could not have been better, but ....This book really...just tells Vance's story. Keep your expectations to a minimum here."

GEORGE BROSI ON APPALACHIAN BOOKS

George Brosi is one of the deep thinkers on Appalachian literature which he has taught, edited, and sold for many years. He is also a political activist, and always worth reading. Take a look at some of his reviews linked on this webssite, and also see his website. Sample writings include:Brosi on Hillbilly Elegy; Brosi on James Still; Brosi on Ramp Hollow (See our take on this book here).

READ AND LISTEN ONLINE

Check out a rediscovered piece by David Weinberger on family word games (truth in advertising: I'm part of this family!)-- Lots of fun. This piece made available thanks to the publication Wordways.

Ingrid Hughes, author of Losing Aaron, has a blog on Psychology Today called "Not the Whole Person." A recent posting about schizophrenia and marijuana was extremely popular.

A Reading List from the Sewanee Writer's Conference by Lisa Fay Coutley

ANNOUNCEMENTS, UPCOMING BOOKS, GOOD NEWS, AND MORE.

Marsh Hawk Press's yearly poetry books contest is closing soon!

Darren C. Demaree's poetry manuscript Two Towns Over had been selected by Campbell McGrath as the winner of the Louise Bogan Award from Trio House Press. "Darren is a dangerous dreamer, concocting love poems to his home state, and pastorals to his true love. But there's always something more beneath the surface: sex and violence, villainy, mutilation, uneasy redemption and troubled ecstasy. These poems are pins pressed deep in the disfigured heart of America. They work a dark magic on the reader — they're unsettling in necessary ways." Christopher Michel Learn more at Darren Demaree's website.
New Novel By Bill Luvaas

Bill Luvaas's new novel, Welcome To Saint Angel, is just out with Anaphora Literary Press and available on Amazon and elsewhere. The novel is a dead-serious comedy about development gone mad and a rural community's—sometimes lethal—battle to stop unscrupulous developers and drought deniers from turning their beloved high-desert home into a suburban nightmare. Iconoclastic inventor Al Sharpe and his zany friends must stand up to powerful adversaries to protect their land from the bulldozers. Part environmental fiction, part social satire, it speaks to the impact of heedless development on the natural environment and on people's lives. To learn more or order the book or go to the publisher's website .

This Red Land by Arthur Dobrin was just published by Nsemia, a Canadian-Kenyan publisher.

Check Out These Excellent Anthologies of Appalachian Writing

CURRENT FROM IRENE WEINBERGER BOOKS:
---
A NOTE ABOUT AMAZON.COM

I have a lot of friends and colleagues who really despise Amazon. See the recent discussion in Issue # 184, as well as older comments from Jonathan Greene and others here.

The largest unionized bookstore in America has a webstore at Powells Books. Some people prefer shopping online there to shopping at Amazon.com. An alternative way to reach Powell's site and support the union is via http://www.powellsunion.com. Prices are the same but 10% of your purchase will go to support the union benefit fund.




WHERE TO FIND BOOKS MENTIONED IN THIS NEWSLETTER

If a book discussed in this newsletter has no source mentioned, don't forget that you may be able to borrow it from your public library as either a hard copy or a digital copy. You may also buy or order from your local independent bookstore. (To find a bricks-and-mortar store, click the "shop indie" logo left).

To buy books online, I often use Bookfinder or Alibris. Bookfinder gives the price with shipping and handling, so you can compare what you're really going to have to pay.

Another source for used and out-of-print books is All Book Stores. Also consider Paperback Book Swap, a postage-only way to trade books with other readers.

Still another place to buy books: Ingrid Hughes suggests "a great place for used books which sometimes turn out to be never-opened hard cover books is Biblio. I've bought many books from them, often for $4 including shipping."

If you are using an electronic reader (all kinds), don't forget free books at the Gutenberg Project—mostly classics, and free, free, free!

Kobobooks.com sells e-books for independent brick-and-mortar bookstores.

RESPONSES TO THIS NEWSLETTER

Please send responses to this newsletter and suggestions directly to Meredith Sue Willis . Unless you request otherwise, your responses may be edited for length and published in this newsletter.

BACK ISSUES click here.

LICENSE
BACK ISSUES:

#196 Last Exit to Brooklyn; Joan Didion; George Brosi's reviews; Alberto Moravia; Muriel Rukeyser; Matthew de la Peña; Joyce Carol Oates
#195 Voices for Unity; Ramp Hollow, A Time to Stir, Patti Smith, Nancy Abrams, Conrad, N.K. Jemisin, Walter Mosely & more.
#194 Allan Appel, Jane Lazarre, Caroline Sutton, Belinda Anderson on children's picture books.
#193 Larry Brown, Phillip Roth, Ken Champion, Larissa Shmailo, Gillian Flynn, Jack Wheatcroft, Hilton Obenziner and more.
#192 Young Adult books from Appalachia; Virginia Woolf's To the Lighthouse; Michael Connelly; Middlemarch; historical murders in Appalachia.
#191 Oliver Sacks, N.K. Jemisin, Isabella and Ferdinand and their descendents, Depta, Highsmith, and more.
#190 Clearman, Eyes Glowing at the Edge of the Woods, Doerr, Octavia Butler, Colson Whitehead, Miss Fourth of July, Goodbye and more.
#189 J.D. Vance; Mitch Levenberg; Phillip Lopate; Barchester Towers; Judith Hoover; ; Les Liaisons Dangereuses; short science fiction reviews.
#188 Carmen Ferreiro-Esteban; The Hemingses of Monticello; Marc Harshman; Jews in the Civil War; Ken Champion; Rebecca West; Colum McCann
#187 Randi Ward, Burt Kimmelman, Llewellyn McKernan, Sir Walter Scott, Jonathan Lethem, Bill Luvaas, Phyllis Moore, Sarah Cordingley & more
#186 Diane Simmons, Walter Dean Myers, Johnny Sundstrom, Octavia Butler & more
#185 Monique Raphel High; Elizabeth Jane Howard; Phil Klay; Crystal Wilkinson
#184 More on Amazon; Laura Tillman; Anthony Trollope; Marily Yalom and the women of the French Revolution; Ernest Becker
#183 Hilton Obenzinger, Donna Meredith, Howard Sturgis, Tom Rob Smith, Daniel José Older, Elizabethe Vigée-Lebrun, Veronica Sicoe
#182 Troy E. Hill, Mitchell Jackson, Rita Sims Quillen, Marie Houzelle, Frederick Busch, more Dickens
#181 Valerie Nieman, Yorker Keith, Eliot Parker, Ken Champion, F.R. Leavis, Charles Dickens
#180 Saul Bellow, Edwina Pendarvis, Matthew Neill Null, Judith Moffett, Theodore Dreiser, & more
#179 Larissa Shmailo, Eric Frizius, Jane Austen, Go Set a Watchman and more
#178 Ken Champion, Cat Pleska, William Demby's Beetlecreek, Ron Rash, Elizabeth Gaskell, and more.
#177 Jane Hicks, Daniel Levine, Constance Fenimore Woolson, Ken Chamption, Patricia Harman
#176 Robert Gipe, Justin Torres, Marilynne Robinson, Velma Wallis, Larry McMurty, Charlotte Brontë, Henry James, Fumiko Enchi, Shelley Ettinger
#175 Lists of what to read for the new year; MOUNTAIN MOTHER GOOSE: CHILD LORE OF WEST VIRGINIA; Peggy Backman
#174 Christian Sahner, John Michael Cummings, Denton Loving, Madame Bovary
#173 Stephanie Wellen Levine, S.C. Gwynne, Ed Davis's Psalms of Israel Jones, Quanah Parker, J.G. Farrell, Lubavitcher girls
#172 Pat Conroy, Donna Tartt, Alice Boatwright, Fumiko Enchi, Robin Hobb, Rex Stout
#171 Robert Graves, Marie Manilla, Johnny Sundstrom, Kirk Judd
#170 John Van Kirk, Carter Seaton,Neil Gaiman, Francine Prose, The Murder of Helen Jewett, Thaddeus Rutkowski
#169 Pearl Buck's The Exile and Fighting Angel; Larissa Shmailo; Liz Lewinson; Twelve Years a Slave, and more
#168 Catherine the Great, Alice Munro, Edith Poor, Mitch Levenberg, Vonnegut, Mellville, and more!
#167 Belinda Anderson; Anne Shelby; Sean O'Leary, Dragon tetralogy; Don Delillo's Underworld
#166 Eddy Pendarvis on Pearl S. Buck; Theresa Basile; Miguel A. Ortiz; Lynda Schor; poems by Janet Lewis; Sarah Fielding
#165 Janet Lewis, Melville, Tosltoy, Irwin Shaw!
#164 Ed Davis on Julie Moore's poems; Edith Wharton; Elaine Drennon Little's A Southern Place; Elmore Leonard
#163 Pamela Erens, Michael Harris, Marlen Bodden, Joydeep Roy-Battacharya, Lisa J. Parker, and more
#162 Lincoln, Joseph Kennedy, Etel Adnan, Laura Treacy Bentley, Ron Rash, Sophie's Choice, and more
#161 More Wilkie Collins; Duff Brenna's Murdering the Mom; Nora Olsen's Swans & Klons; Lady Audley's Secret
#160 Carolina De Robertis, The Immortal Life of Henrietta Lacks, Ross King's The Judgment of Paris
#159 Tom Jones. William Luvaas, Marc Harshman, The Good Earth, Lara Santoro, American Psycho
#158 Chinua Achebe's Man of the People; The Red and the Black; McCarthy's C.; Farm City; Victor Depta;Myra Shapiro
#157 Alice Boatwright, Reamy Jansen, Herta Muller, Knut Hamsun, What Maisie Knew; Wanchee Wang, Dolly Withrow.
#156 The Glass Madonna; A Revelation
#155 Buzz Bissinger; reader suggestions; Satchmo at the Waldorf
#154 Hannah Brown, Brad Abruzzi, Thomas Merton
#153 J.Anthony Lukas, Talmage Stanley's The Poco Fields, Devil Anse
#152 Marc Harshman guest editor; John Burroughs; Carol Hoenig
#151 Deborah Clearman, Steve Schrader, Paul Harding, Ken Follet, Saramago-- and more!
#150 Mitch Levenberg, Johnny Sundstrom, and Isabel Wilkerson's The Warmth of Other Suns.
#149 David Weinberger's Too Big to Know; The Shining; The Tiger's Wife.
#148 The Moonstone, Djibouti, Mark Perry on the Grimké family
#147 Jane Lazarre's new novel; Johnny Sundstrom; Emotional Medicine Rx; Walter Dean Myers, etc.
#146 Henry Adams AGAIN! Also,Fun Home: a Tragicomic
#145 Henry Adams, Darnell Arnoult, Jaimy Gordon, Charlotte Brontë
#144 Carter Seaton, NancyKay Shapiro, Lady Murasaki Shikibu
#143 Little America; Guns,Germs, and Steel; The Trial
#142 Blog Fiction, Leah by Seymour Epstein, Wolf Hall, etc.
#141 Dreama Frisk on Hilary Spurling's Pearl Buck in China; Anita Desai; Cormac McCarthy
#140 Valerie Nieman's Blood Clay, Dolly Withrow
#139 My Kindle, The Prime Minister, Blood Meridian
#138 Special on Publicity by Carter Seaton
#137 Michael Harris's The Chieu Hoi Saloon; Game of Thrones; James Alexander Thom's Follow the River
#136 James Boyle's The Creative Commons; Paola Corso, Joanne Greenberg, Monique Raphel High, Amos Oz
#135 Reviews by Carole Rosenthal, Jeffrey Sokolow, and Wanchee Wang.
#134 Daniel Deronda, books with material on black and white relations in West Virginia
#133 Susan Carpenter, Irene Nemirovsky, Jonathan Safran Foer, Kanafani, Joe Sacco
#132 Karen Armstrong's A History of God; JCO's The Falls; The Eustace Diamonds again.
#131 The Help; J. McHenry Jones, Reamy Jansen, Jamie O'Neill, Michael Chabon.
#130 Lynda Schor, Ed Myers, Charles Bukowski, Terry Bisson, The Changing Face of Anti-Semitism
#129 Baltasar and Blimunda; Underground Railroad; Navasky's Naming Names, small press and indie books.
#128 Jeffrey Sokolow on Histories and memoirs of the Civil Rights Movement
#127 Olive Kitteridge; Urban fiction; Shelley Ettinger on Joyce Carol Oates
#126 Jack Hussey's Ghosts of Walden, The Leopard , Roger's Version, The Reluctanct Fundamentalist
#125 Lee Maynard's The Pale Light of Sunset; Books on John Brown suggested by Jeffrey Sokolow
#124 Cloudsplitter, Founding Brothers, Obenzinger on Bradley's Harlem Vs. Columbia University
#123 MSW's summer reading round-up; Olive Schreiner; more The Book Thief; more on the state of editing
#122 Left-wing cowboy poetry; Jewish partisans during WW2; responses to "Hire a Book Doctor?"
#121 Jane Lazarre's latest; Irving Howe's Leon Trotsky; Gringolandia; "Hire a Book Doctor?"
#120 Dreama Frisk on The Book Thief; Mark Rudd; Thulani Davis's summer reading list
#119 Two Histories of the Jews; small press books for Summer
#118 Kasuo Ichiguro, Jeanette Winterson, The Carter Family!
#117 Cat Pleska on Ann Pancake; Phyllis Moore on Jayne Anne Phillips; and Dolly Withrow on publicity
#116 Ann Pancake, American Psycho, Marc Harshman on George Mackay Brown
#115 Adam Bede, Nietzsche, Johnny Sundstrom
#114 Judith Moffett, high fantasy, Jared Diamond, Lily Tuck
#113 Espionage--nonfiction and fiction: Orson Scott Card and homophobia
#112 Marc Kaminsky, Nel Noddings, Orson Scott Card, Ed Myers
#111 James Michener, Mary Lee Settle, Ardian Gill, BIll Higginson, Jeremy Osner, Carol Brodtick
#110 Nahid Rachlin, Marion Cuba on self-publishing; Thulani Davis, The Road, memoirs
#109 Books about the late nineteen-sixties: Busy Dying; Flying Close to the Sun; Looking Good; Trespassers
#108 The Animal Within; The Ground Under My Feet; King of Swords
#107 The Absentee; Gorky Park; Little Scarlet; Howl; Health Proxy
#106 Castle Rackrent; Harry Potter and the Deathly Hallows; More on Drown; Blindness & more
#105 Everything is Miscellaneous, The Untouchable, Kettle Bottom by Diane Gilliam Fisher
#104 Responses to Shelley on Junot Diaz and more; More best books of 2007
#103 Guest Editor: Shelley Ettinger and her best books of 2007
#102 Saramago's BLINDNESS; more on NEVER LET ME GO; George Lies on Joe Gatski
#101 My Brilliant Career, The Scarlet Letter, John Banville, Never Let Me Go
#100 The Poisonwood Bible, Pamela Erens, More Harry P.
#99 Jonathan Greene on Amazon.com; Molly Gilman on Dogs of Babel
#98 Guest editor Pat Arnow; more on the Amazon.com debate
#97 Using Thomas Hardy; Why I Write; more
#96 Lucy Calkins, issue fiction for young adults
#95 Collapse, Harry Potter, Steve Geng
#94 Alice Robinson-Gilman, Maynard on Momaday
#93 Kristin Lavransdatter, House Made of Dawn, Leaving Atlanta
#92 Death of Ivan Ilych; Memoirs
#91 Richard Powers discussion
#90 William Zinsser, Memoir, Shakespeare
#89 William Styron, Ellen Willis, Dune, Germinal, and much more
#88 Sandra Cisneros's Caramelo
#87 Wings of the Dove, Forever After (9/11 Teachers)
#86 Leora Skolkin-Smith, American Pastoral, and more
#85 Wobblies, Winterson, West Virginia Encyclopedia
#84 Karen Armstrong, Geraldine Brooks, Peter Taylor
#83 3-Cornered World, Da Vinci Code
#82 The Eustace Diamonds, Strapless, Empire Falls
#81 Philip Roth's The Plot Against America , Paola Corso
#80 Joanne Greenberg, Ed Davis, more Murdoch; Special Discussion on Memoir--Frey and J.T. Leroy
#79 Adam Sexton, Iris Murdoch, Hemingway
#78 The Hills at Home; Tess of the D'Urbervilles; Jean Stafford
#77 On children's books--guest editor Carol Brodtrick
#76 Mary Lee Settle, Mary McCarthy
#75 The Makioka Sisters
#74 In Our Hearts We Were Giants
#73 Joyce Dyer
#72 Bill Robinson WWII story
#71 Eva Kollisch on G.W. Sebald
#70 On Reading
#69 Nella Larsen, Romola
#68 P.D. James
#67 The Medici
#66 Curious Incident,Temple Grandin
#65 Ingrid Hughes on Memoir
#64 Boyle, Worlds of Fiction
#63 The Namesame
#62 Honorary Consul; The Idiot
#61 Lauren's Line
#60 Prince of Providence
#59 The Mutual Friend, Red Water
#58 AkÉ, Season of Delight
#57 Screaming with Cannibals
#56 Benita Eisler's Byron
#55 Addie, Hottentot Venus, Ake
#54 Scott Oglesby, Jane Rule
#53 Nafisi,Chesnutt, LeGuin
#52 Keith Maillard, Lee Maynard
#51 Gregory Michie, Carter Seaton
#50 Atonement, Victoria Woodhull biography
#49 Caucasia
#48 Richard Price, Phillip Pullman
#47 Mid- East Islamic World Reader
#46 Invitation to a Beheading
#45 The Princess of Cleves
#44 Shelley Ettinger: A Few Not-so-Great Books
#43 Woolf, The Terrorist Next Door
#42 John Sanford
#41 Isabelle Allende
#40 Ed Myers on John Williams
#39 Faulkner
#38 Steven Bloom No New Jokes
#37 James Webb's Fields of Fire
#36 Middlemarch
#35 Conrad, Furbee, Silas House
#34 Emshwiller
#33 Pullman, Daughter of the Elm
#32 More Lesbian lit; Nostromo
#31 Lesbian fiction
#30 Carol Shields, Colson Whitehead
#29 More William Styron
#28 William Styron
#27 Daniel Gioseffi
#26 Phyllis Moore
#25 On Libraries....
#24 Tales of the City
#23 Nonfiction, poetry, and fiction
#22 More on Why This Newsletter
#21 Salinger, Sarah Waters, Next of Kin
#20 Jane Lazarre
#19 Artemisia Gentileschi
#18 Ozick, Coetzee, Joanna Torrey
#17 Arthur Kinoy
#16 Mrs. Gaskell and lots of other suggestions
#15 George Dennison, Pat Barker, George Eliot
#14 Small Presses
#13 Gap Creek, Crum
#12 Reading after 9-11
#11 Political Novels
#10 Summer Reading ideas
#9 Shelley Ettinger picks
#8 Harriette Arnow's Hunter's Horn
#7 About this newsletter
#6 Maria Edgeworth
#5 Tales of Good and Evil; Moon Tiger
#4 Homer Hickam and The Chosen
#3 J.T. LeRoy and Tale of Genji
#2 Chick Lit
#1 About this newsletter
.